Utilizing these tips and making them common practice in your playing habits will allow you to play at a brisk and enjoyable pace.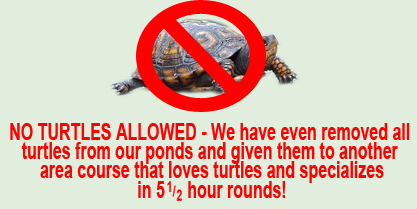 Golfers who enjoy the Williston Golf Club, know and understand, the time-honored basics of pace of play etiquette:
~ Ready Golf - the first person to the tee, fairway or green should hit their ball regardless of whose turn it may be.
~ Limit your time searching for lost balls, The rules allow you 3 min., but keep it to around a minute or two..
~ No Mulligans - practice is for the range.
~ Share the cart driving - drop your cart partner off at their ball, then go to your ball and get ready to hit.
~ Leave green immediately after completing hole. Record scores on next tee.
~ Park your clubs/cart behind green, next to the next tee.
~ Save your long stories and jokes for the clubhouse.
~ Continuous Putting - putt out and complete the hole rather than marking short putts.
~ Do not discontinue play at the turn - 5 min maximum pit stop. Go directly to 10th tee.
Follow the Recommended USGA Pace Par located on our scorecard………..
Remember, your place on the golf course is directly behind the group in front of you, not directly in front of the group behind you. Look ahead, not behind!!
Everyones cooperation is appreciated. Our goal is to keep the pace enjoyable ensuring that everyone has a legendary day!!!
Call us right now to book a tee time at (802) 878-3747. We look forward to your call - unless you are a slow golfer. In that case, we can recommend several courses in the area that specialize in 5 ½ hour rounds.