A Legendary Course in the Heart of a Historic Village.

"We refuse to pay overpriced fees at courses that take too long to play and are often in
poor condition. Williston is our first and only choice, we know that the
course will be in top condition and won't cost us an arm and a leg."
-- Gina Bernadet, Milton, VT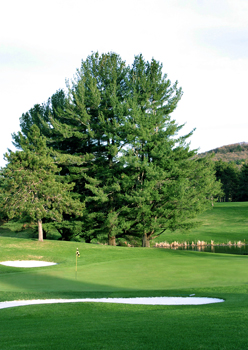 Since 1927, The course has long been a local's favorite and the traveler's "must play". Why the enormous demand to play a round on this legendary course? A golf course that is about 1000 yards shorter than a modern course? It could be because of its unique charm that is complimented by breathtaking views of Camel's Hump and the Green Mountains. Maybe it is because course conditions are always perfect and the pace is enjoyable. More importantly, it is probably because of the layout of the course itself, Measuring 6,163 yards from the back tees, it presents a challenge to the low handicapper, who often feel they will bring Williston to its knees. The reverse usually occurs. On the flip side, High handicappers can play a round that allows them to score well. All golfers have a great experience and enjoy a legendary day!

One thing is for certain, the finest conditioning of any course in Vermont and the Rates are the most affordable in the area!!
Call us at (802) 878-3747 to book your tee time today!!!

Built in and around the former Talcott family farm in a parkland setting, Williston has a pleasant variety of flat and undulating holes. A complete redesign in the late 1960's by Ben Murray reshaped and rerouted the course. An aggressive tree planting program at that time created fairways, that today, are lined with majestic maples, pines and willows. Many golfers say it reminds them of an upscale suburban country club - and they can't believe they paid such a low fee to play !

Each hole has it own character with definition and appeal and each hole has been aptly named. For example, Hole #3 the Road Hole: which has a virtual Island green surrounded by a pond, out of bounds and "the road".

Call us at (802) 878-3747 to book your tee time today. Considering our conditioning, enjoyable pace and pricing and you get the best value in Vermont.